Tropical Depression Beta is expected to produce five to ten inches of rain as it passes over the Lake Charles and surrounding areas.  Calcasieu Parish residents are encouraged to remove debris from ditches and drains around their property.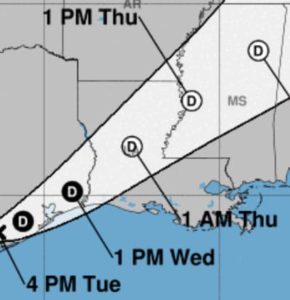 Just as important, Hurricane Laura Homeowners and Businesses should protect their property from additional water intrusion as it is required under Louisiana Law.  Protection of your property from additional harm is called mitigation of damages.  Most policies provide for reimbursement of expense associated with protecting the property to prevent additional damages to property covered under the policy..
The Louisiana Courts that are responsible for reviewing Louisiana Hurricane cases decided in Calcasieu and Cameron Parishes, have found that although the insurer was responsible for the cost of replacing the roof, the policyholders were liable for damages sustained after the storm "where measures could have been taken to reasonably protect the premises from further deterioration." Higginbotham v. New Hampshire Indem. Co., 498 So.2d 1149 (La.App. 3 Cir.1986).  The Louisiana Supreme Court found that neglect in making or having had temporary repairs made to a home following September  19, 1947 Hurricane George resulting in extra damages would be charged to the homeowner.  Brocato v. Sun Underwriters  219 La 495, 53 So.2d 246.
Therefore, this impacted by Hurricane Laura should definitely try to mitigate their damages through measures such as applying a blue roof to the home to prevent further damage..